Clare Bathé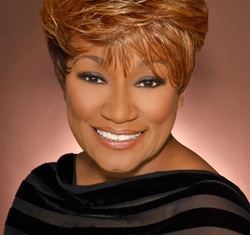 …brings her rich voice, infectious smile and a lifetime of entertainment career highlights to every show's performance. In a varied career that has taken her from the chorus lines to the foot lights of Broadway, the pop hit records charts, singing alongside some of the greatest jazz artists, and headlining some of the world's greatest cabaret clubs, Clare is a charismatic artist and performer whom Lionel Hampton has called, "…the greatest vocalist since Sarah Vaughan." Lena Horne simply called her, "The Singer".

Born and raised in St. Louis, Missouri and turning professional at the age of thirteen, she honed her skills by singing with some of the greatest gospel acts of her youth, such as Rev. Cleophus Robinson, James Cleveland and The O'Neal Twins. However, it was the love of Sarah Vaughan's jazz artistry, the musical interpretations of Nancy Wilson, the pureness of Jimmy Scott, and the multi-faceted performances of Sammy Davis, Jr. that soon led her into an exploration of the entertainment world beyond gospel music.

On Broadway, Clare sang, danced and acted her way to a successful theatrical career. She was dance captain and vocal captain in Lena Horne: The Lady & Her Music, and toured the country for more than a year in its national tour. She also had memorable appearances on Broadway in Big River and Jelly's Last Jam. She has starred in several Off-Broadway productions, and was the Star of the European musical theatre and television productions of Harlem Story, and Body and Soul. In her years touring and recording with The Lionel Hampton Orchestra, she sang on some of the world's most prestigious stages, such as the United Nations, The White House and Inaugural Balls for Presidents Reagan and Bush, Sr. and Carnegie Hall. She has performed alongside such notable jazz greats as Art Blakely, Grady Tate, Milt Hinton, Joe Williams, Billy Eckstein, Terrance Blanchard and Branford Marsalis, to name a few. As a pop recording artist she was lead vocalist for the band Machine, garnering a million selling record with the hit record There But For The Grace Of God Go I. She hit the pop charts again in a duet with Joe Simon with You Give Life to Me. She has had the honor of performing alongside notable performers such as Roberta Flack, Luther Vandross, and Patti Labelle to name a few. One of her personal highlights was as the opening act for Julio Iglesias on a South American tour.

As a cabaret star, Clare has toured the world and headlined some of its greatest stages, including The Rose Tattoo, Los Angeles, CA; Sweetwater's, New York, NY; Casino de Monte Carlo, Monaco; Jimmy's Swing Club, Hamburg, Germany; The King's Opera, The Meridian Hotel, Paris, France; El Forge, El Bauen Hotel, Buenos Aires, Argentina; and many more. She was featured on PM Magazine, St. Louis, MO; National Television, Monte Carlo, ARD National German Television, and Argentina Television, Buenos Aires Argentina, and a guest appearance on Lifetime Network TV's hit show Strong Medicine.

In a Clare Bathé Show, her audience experiences the excitement, the heartaches, the warmth and the soul of a compelling artist, who is able to weave an amazing thread of stories through her music, while casting her spell on all in her presence.


---